" Service to all who educate." 
Mission Statement
 Policy Board Meeting Dates 2019-2020 are: September 27, November 22, 2019 and February 7, April 3 and May 15 2020
 Lunch and Focus Groups meet at Noon with the Business Meeting at 12:30PM.
Meetings are held at Big Tree Elementary School Rm 168
Teacher Wish List
Let us know how we can help support your professional goals!  Take
this brief survey
and help us make improvements.
Course Exit Surveys
It is important to us to provide the opportunity for course and workshop participants to give STC and the Instructors feedback on the course.  We offer two surveys, one immediately following the course (link provides at the last session) and another follow-up survey 3-6 months after the course (emailed to participant by STC)  to see how the learning has impacted your professional role. 
Annette Baldwin
Co-Director
Kathy Northway
Co-Director
Vanessa Rehac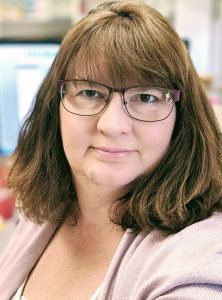 Vanessa first served as a PTA Parent Representative to the STC Policy Board before the opportunity to work with the center in 2002 doing mostly custom design projects for our constituents.   Eventually,Vanessa took over as office manager after the retirement of our secretary.   Her first love remains working with our constituents to custom design materials for the classroom and beyond.  Vanessa also is the proud owner of Sadie, a Certified Therapy Dog through the SPCA Paws for Love Program.  They make visits throughout WNY.  If your school would like a visit, contact her to make arrangements.